MOTORCYCLE TAXI
I am very surprised to listen about this motorcycle is used as a taxi services in many countries of the world.Motorcycle taxi carry only one passenger who rides behind the motorcycle operator or driver.
The main reason of use this public transport because it is cheapest as compare to car taxi.
Different countries have their own term for this vehicle.for example in U.K it is known as passenger bike.
The term boda-boda is used for motorcycle taxi in East Africa.
It is note that in some European countries where this service exist like U.K,Sweden, have specific bikes which equipped with necessary modification for passenger facility,while an ordinary bike in many countries like China,India,Indonesia is uses for this purpose.
MOTORCYCLE TAXI IN PARIS
Spain's capital Madrid now counts on motorcycle taxi :good for environment even better for wallet
LONDON'S MOTORCYCLE TAXI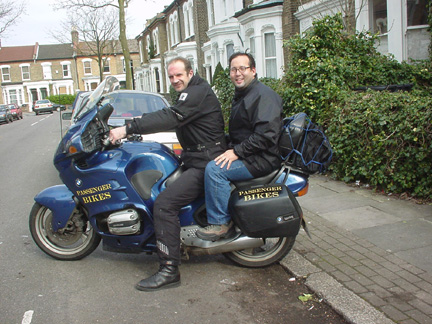 In Bangkok,Thailand motorcycle taxi driver always wear pink vest.
Motor cycle taxi in Pattaya.Phil pines.
Motorcycle taxi driver waiting for a passenger in Cotonou,Benin (west Africa)
Labels: motorcycle, passenger, taxi